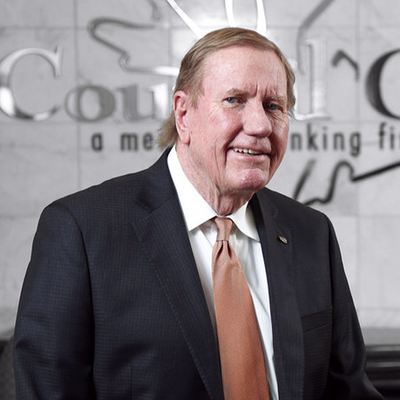 William O. Johnstone
William O. Johnstone currently serves as manager and CEO of Council Oak Partners, LLC, an Oklahoma based private equity firm specializing in recapitalizations, as well as merger and acquisition financing. Johnstone has been managing the company since 2000.
Johnstone is an experienced advisor to financial services and investment firms, currently serving as vice chairman and director of BancFirst Corporation since 1996. Previously, he served as president, CEO and chairman of City Bank & Trust from 1985 to 1996. In addition, Johnstone is a trustee and vice chairman of the Frank Phillips Foundation, Inc., and serves on the executive committee for the Oklahoma Medical Research Foundation.
Johnstone has previously served as chairman of the Oklahoma Association of State Banks, vice chairman of the executive committee of the Oklahoma City Chamber of Commerce, president of the Oklahoma City Community Foundation, chairman of the Oklahoma Securities Commission and chairman of the Young Presidents Organization, as well as on other boards and committees.
Johnstone has received the Leadership Oklahoma Award for being a distinguished community leader and the Dean McGee Award. He earned a B.A. in Economics and an MBA, both from the University of Oklahoma.